There is a long road for years for us to put air wireless charge technology into practice. But now, just 20 dollars of the accessories consuming, can move forward a big step to the future.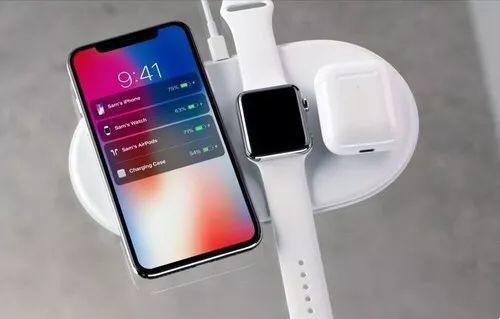 Apple users endure the suffering of disabling charging and listening songs simultaneously after canceling earphone hole after iPhone 7.
And then Apple officially gives the solution with application of wireless blue tooth earphone, which activate enormously the creativity of the wireless products requirement.

"Genuine wireless charge" seizes the future

Besides existed wireless earphone, there are some technologies that people always are dreaming of:
No need to worry the cable is too short, staying in bed doing whatever we want , and also can finish charging?
No need to carry power bank and cable?
No need to worry lower power wherever you are?
All the above are what people dream of and want it come true, the so called ' genuine wireless charge', which can solve much more than earphone charging.
Actually, there was news saying that iPhone 7 was going to apply air wireless charging technology "Wattup" which can transfer power for cellphone device within 4.5 meters through built-in chip in 2015.
The company Engerous that developed this technology just got FCC' s approval of the security and health of this technology in the end of 2017.
Meanwhile, the company PowerCast that developed another air wireless charge technology also nearly got the FCC approval for the technology which can support low power transfer in distance with 24 meters the farthest 80 feet. Just during CES show, both companies attended CES and showed their technology during exhibition.
Although the current technology can not support normal cellphones and PC devices charging on transfer power, it provides us the promising space and future.
Qi system dominates the wireless market.
During CES exhibition, Qi system touch mode wireless charge pad appears again and dominates the wireless charge market . Qi system had been applied before , for example, the smart phone leaders Samsung, LG.
Since Apple launched iPhone 8 & iPhone X which support Qi wireless charge in Autumn last year, the wireless charge market was reactivated again, with many new users entering.
In the field of wireless charge, Apple's entering means two points:
Many new consumers would have requirements on Qi wireless charge pad, which means pushing out other wireless system like PWA. Eventually, PowerMat who developed PWA had announced during CES this year, all the wireless charge products of his company in the future will support Qi system.
Compared with fuzzy charging cable, wireless charger will become a fix part of users' desks. Therefore, people should not only pay attention on quality and use experience, but also on appearance and design during the creation of wireless charger.
We have seen the products like iOttie's wireless charger with cloth packed during CES, also like Belkin, with different shape, which largely satisfy the requirement on design. However, the accessories like mouse pad would be with much more choices.
Meantime, It is very important to provide various appearance design because consumers would have different style tendencies and aesthetic standards. Certainly, too many choices would make consumers confused, but this also means providing enough option space, especially with multiple choices.

Another focus is the general specification of Qi.

Currently, during the fierce competition between Type-C and Micro-USB and Apple Lightning as unique style of its own, Qi system becomes the dominant standard in the field of wireless charge.
Charge accessories manufacturers will continuously focus on related products because of acknowledge of all the flag-store cellphone are using Qi system, which this embodies the commercial value that cable charge doesn't have.
Scene embedding brings new charging experience.
However, the touch mode wireless charge pad which Qi system represents , can not provide " genuine wireless charge" that people imagine. Because users can not use cellphone when charging and must place cellphone on the specific position, which to some degree, more inconvenient than cable charging.
Jumping out from family space, scene adaptability of touch mode wireless charging would be with more value.

In 2016, the creator of PMA PowerMat embedded PWA device in Starbuck in San Francisco, America. However, Powermat has announced that all updated and support Qi system this year. There are some embedded wireless chargers made by Belkin special for some commercial scenes, hotels and public places. Ikea had put the lamp with built-in wireless charging pad in early 2015.
According to the Netease car news, Qi wireless charge technology has been installed to variant car models by couples of cars manufacturers till now. Also, Apple has a list including Audi, Bentley and BMW and other ten famous car brands will join Qi and embed the wireless charging function into their products. It is said that Chevrolet Camaro, Ioniq and Toyota Avalon have provided Qi wireless charge technology as an option function to consumers. And Genesis G90, BMW 7 series and Cadillac CT6 have regarded Qi wireless charge pad as cars' standard accessories.
We are witness of the wireless charge pad jumping out from the current frame and developing towards a direction of people's life.
During CES, the firest exciting "future product" has come out. Technology company like Engerous and Powercast will make the scene come true: no cable or fix device needed, carry your electronics device still can be charging while move in house. That is long road for years until put this technology into practice. But here right now, just 20 dollars accessories consuming can move a big step to the future.